Lemon Rosemary Chicken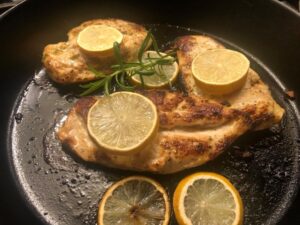 4 chicken skinless & boneless breasts (or whatever pieces you enjoy)
1 large or 2 small garlic cloves chopped or minced
2 medium lemons (washed
¼ cup olive oil(or enough to just cover chicken)
2 to 4 sprigs of fresh rosemary (dry will be more powerful use ¼ to ½ TBS) Chop about 2 TBS fresh rosemary and save the remainder to garnish dish to serve.
Mix oil, garlic, juice & zest of one lemon in a plastic bag large enough to hold your chicken. Add chicken and smush (a technical term)around until chicken is covered. Marinade 30 minutes in the fridge.
This can be made 100% in a sheet pan, however, I like to make mine in a cast-iron skillet and brown on top of the stove before I pop it into the oven to finish. Here are cast iron directions.
Heat cast iron pan on top of the stove and add a small (TBS or so) of olive oil -- just enough to cover the bottom of the pan. When the oil starts to simmer carefully add your chicken into the pan. Brown each side (about 2 minutes on each side, but it will vary based on how much chicken and type you are using).
Slice the remaining lemon and add to the pan on and around the chicken -- I also add the remainder of the marinade at this time. Pop into a 375-degree-oven and bake until the internal temperative is 160 degrees for white meat and 165 for dark meat pieces. The baking time will vary depending on the size and type of pieces you use. BUY a meat thermometer to avoid undercooking or overcooking. You will thank me.