Easy Homemade Butter Pecan Ice Cream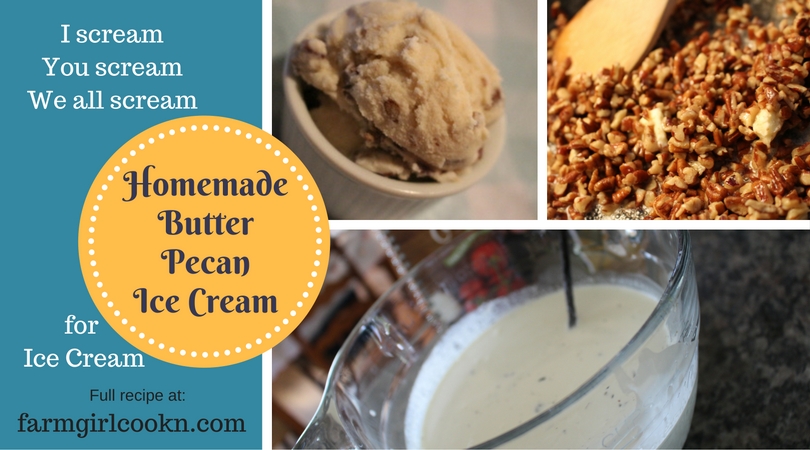 Author:
adapted by Mary Lovstad
2 cups heavy whipping cream
2½ cups half and half
1 cup chopped pecans
½ cup brown sugar
½ cup white sugar
½ teaspoon Kosher salt
4 tablespoons unsalted butter
1 Vanilla bean (Vanilla Extract can be substituted -- 1 tsp)
Put cream and half and half in a large microwave safe bowl (I like to use a large batter bowl that has a lid), set aside.
Using a sharp knife cut down the vanilla bean and with the blunt side scrape all of the goodies from vanilla bean and put into the cream mixture. Go ahead and toss the vanilla bean into the cream mixture, it will continue to give more flavor to your ice cream mixture.
Warm the cream/vanilla mixture in the microwave -- do not boil -- depending on the strength of your microwave this could be 3 to 5 minutes. I let it go 2 minutes, then check it each minute thereafter until it is warm. You could also do this in a sauce pan. Let the cream and vanilla steep for about 30 minutes. Skip this step if you use Vanilla extract. After 30 minutes, add the sugar and mix until dissolved.
Cover and chill in the fridge about 2 hours or until completely chilled.
While you are steeping the cream/vanilla mixture, toast the pecans. Melt butter in a large skillet, toss in pecans and toast on medium heat for 4 to 6 minutes, stirring occasionally. Your house will smell wonderful! You can pour off the extra butter and use it for cookies or not. I think that is why they call it "Butter" Pecan. Chill nuts completely.
After all the ingredients are well chilled. Add the cream mixture to your ice cream maker and set for about 20 minutes.
After 20 minutes slowly add the pecans and continue for 5 to 10 minutes longer up to 30 minutes.
Your ice cream should be freezing, but still more of a soft serve - Pack into freezer container(s) and freeze for at least 2 hours for a harder texture.
Recipe by
Farm Girl Cook'n
at https://farmgirlcookn.com/easy-homemade-butter-pecan-%ef%bb%bfice-cream/