Aunt Margaret's Marvelous Potato Salad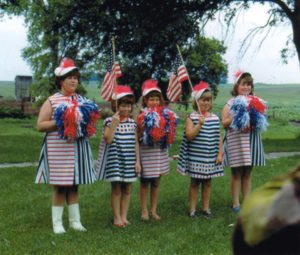 Author:
Mary Lovstad's interpretation
Recipe type:
Side Dish / Salad
10 pounds red potatoes
1-quart salad dressing or Mayo -- whatever you like best or have on hand
8 to 12 boiled eggs -- I prefer 8, the more you use the drier your salad will be
2 large white salad onions -- sweet ones are nice also
⅔ cup white sugar
⅓ cup white vinegar
3 to 6 TBSP yellow mustard
Salt and pepper to taste
Garnish with paprika and/or fresh chopped parsley
Potatoes: Peel and dice into 1" cubes, boil in salted water until fork soft - about 15 to 20 minutes -- watch closely so they stay firm. Ideally, chill overnight. **This is the quickest way to do the potatoes, but my preferred way is to boil red potatoes with skins on -- let them cool in the fridge and then peel and dice -- I think the flavor is better, but it does take longer.
Eggs: Cover eggs with cold water, bring to a boil. Cover and remove from the heat. Let sit 20 minutes. Rinse with cold water. Cool and ideally chill overnight.
If you can not prepare the potatoes and eggs the day before you put the salad together, cool both to at least room temperature and chill as long as possible before you put it together.
Assembly:
Peel eggs place yokes in a deep bowl for the dressing. Dice the whites and mix into potatoes.
Finely dice onions. Mix into potato and egg whites.
Dressing: Mash egg yokes and add salad dressing, sugar, vinegar, and mustard. Salt and pepper to taste.
Add dressing to potato mixture. Chill at least 2 hours -- preferably overnight.
Potato salad is one of those foods that tastes better when it has a chance for the flavors to meld together so I highly recommend chilling overnight.
Recipe by
Farm Girl Cook'n
at https://farmgirlcookn.com/awkward-4th-of-july-memories-and-homemade-potato-salad/