Tequila Lime Grilled Chicken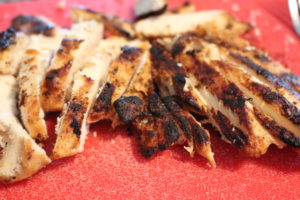 Author:
Mary Lovstad (Farm Girl)
2 TBS Olive Oil
2 TBS Tequila
1 Lime -- Zest & Juice
½ tsp Chipotle Chili Powder
½ tsp Cumin
1 minced garlic clove
½ tsp Kosher Salt
½ tsp Ground Pepper
2 Boneless Chicken Breasts
Mix all ingredients together.
Save out about ¼ of the mixture in a separate container to use during grilling.
Put chicken breasts into a storage bag or container and pour remainder of the marinade over the chicken. Make sure both sides of the meat are coated with the marinade.
Refrigerate for 30 minutes while you prepare grill.
Grill chicken to an internal temperature of 165 degrees -- in the last 5 to 10 minutes brush on remainder of marinade.
Recipe by
Farm Girl Cook'n
at https://farmgirlcookn.com/tequila-lime-grilled-chicken-for-a-dinner-for-two/