Recipe #1 Chicken Enchiladas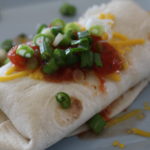 1 Rotisserie Chicken
1 pint Jar of your favorite salsa -- use more if you like it a little saucier.
2 or 3 drops of your favorite hot sauce to taste -- I like a green sauce
Juice of ½ lime (optional, but nice)
4 oz Cream Cheese (optional)
4 to 6 oz Shredded Cheddar Cheese (or more depending how heavy handed you are)
6 Tortillas
Toppings -- extra salsa, hot sauce, green onions, sour cream, avocados, etc.
Preheat oven to 350 degrees
Defrost and warm up rotisserie chicken -- it is easier to shred when it is warm or room temperature...I use my hands but two forks work nicely too.
Put shredded chicken in a saute pan, stir in salsa and hot sauce warming it through.
If you are using the cream cheese cut it up in small cubes and melt into chicken and salsa mixture
Fill tortilla with meat mixture, sprinkle with a little of the cheddar cheese.
Put wrapped tortilla in a baking pan greased or sprayed to keep from sticking.
Repeat
Sprinkle the top of the tortillas with additional Cheddar Cheese
Cover with foil and bake for about 15 to 20 minutes until cheese is melted and tortillas are hot.
You can uncover and bake for a few minutes if you want to crisp them up.
Recipe by
Farm Girl Cook'n
at https://farmgirlcookn.com/one-rotisserie-chicken-one-afternoon-four-healthy-recipes/