Recipe #3 Oven Chicken Broth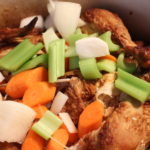 1 Carcass of a rotisserie chicken
2 Carrots -- cleaned and roughly chopped
2 Stalks of Celery -- cleaned and roughly chopped
1 medium size yellow onion chopped in large chunks (some older recipes put the onion in whole with the yellow skins which provide a nice yellow color to your broth)
6 to 8 quarts of water -- enough to cover everything in your pot and add as needed while cooking
Fresh Herbs -- Rosemary, Thyme -- You can use dry when they are out of season
1 or 2 bay leaves depending on size
½ to 1 cup white wine (optional)
** If you like garlic you can add one whole clove, but I like mine without for more flexibility and a more traditional flavor.
Preheat oven to 350 degrees
Put chicken and all juices into a heavy roaster or Dutch Oven
If you have time roast the chicken and carcass for at least an hour uncovered -- add a ½ cup or so of white wine or water to the bottom of the pan.
After at least an hour add all of the veggies, herbs, bay leaves and water to cover carcass
Return to oven with a cover slightly ajar to allow the steam to escape for at least 2 more hours.
Add water and salt as needed.
Remove from oven and cool to lukewarm
Using a fine sieve separate the broth from the bones and veggies into a large bowl.
Refrigerate for several hours or overnight.
Remove fat from top of broth and store in freezer safe container.
Recipe by
Farm Girl Cook'n
at https://farmgirlcookn.com/one-rotisserie-chicken-one-afternoon-four-healthy-recipes/