Recipe #4 Cream of Chicken Soup/Sauce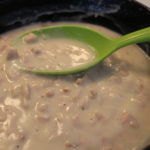 2 TBSP Butter
2 TBSP Flour
1 Cup Chicken Broth or you can ½ cup milk and ½ broth
Extra broth or milk to thin to desired thickeness
1 cup of diced chicken saved from Rotisserie chicken
Add the butter to a saute pan and melt
Sprinkle 2 TBSP of flour stirring constantly to create a roux. Cook 2 more minutes.
Add cold liquid very slowly -- a bit at a time, stirring quickly continually until all liquid is added and your sauce comes together smoothly.
Add additional broth or milk if necessary to your desired thickness
Add diced chicken
Salt and Pepper to taste.
Recipe by
Farm Girl Cook'n
at https://farmgirlcookn.com/one-rotisserie-chicken-one-afternoon-four-healthy-recipes/