Apple Pie Filling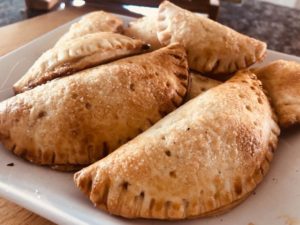 ¾ cup Sugar
4 Apples (I prefer Granny Smith -- but use whatever you have)
1½ TBS Lemon Juice (Fresh if you have it -- but you can use concentrated)
1 tsp Lemon Zest (optional if you have it)
¼ tsp salt
¼ tsp nutmeg
¼ tsp cinnamon
⅛ tsp allspice
1 TBS Tapioca pudding (dry) optional if you have and if your apples are really juicy.
Prepare filling in advance for hand pies -- it should be cold for use.
Peel apples and cut into thin slices.
Put all ingredients into a medium saucepan
On medium-low heat stir ingredients often for 5 to 10 minutes or until apples soften and can be mashed with a potato masher or fork to break into smaller pieces. The mixture should become thick -- if too thick you can add a little apple juice or water -- I really like Angry Orchard hard cider in it -- but that is another story.
I like my filling the consistency of a very chunky apple sauce as it is easy to fill the hand pie. Cool completely in the fridge.