Almost No-Knead Bread from America's Test Kitchens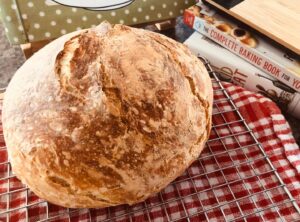 Author:
America's Test Kitchens
15 oz. (about 3 cups) unbleached all-purpose flour, plus extra for dusting
1-1/2 tsp. kosher salt
¼ tsp. Rapid rise or instant yeast
¾ cup room-temperature tap water
3 oz. mild-flavored beer, such as Budweiser room temperature
1 Tbsp. white vinegar
Vegetable Oil Spray
Whisk flour, salt, and yeast in a large bowl. Add water, beer, and vinegar. Using a rubber spatula, fold mixture, scraping up dry flour from bottom of bowl until shaggy ball forms. Cover bowl with plastic wrap and let sit at room temperature 8-18 hours.
Turn dough out onto lightly floured board; knead lightly 10-15 times to form a smooth, round ball; shape into round by pulling edges of dough up onto the middle. Lay on the counter 12" x 18" sheet of parchment; spray with nonstick cooking spray. Place dough round on parchment, seam side down and gently place in a dutch oven. Mist lightly dough with nonstick cooking spray. Cover with plastic wrap; let rise about 2 hours, until double. (If you poke a finger into the dough and the dent remains, it's double.)
Lightly flour top of the loaf (I forgot to do this -- still worked) Using a sharply serrated knife, cut ½ -inch X into the top of the loaf (Yes, I forgot this too). Remove plastic wrap from dough
Adjust oven rack to the middle position. Cover the pot and put it in a cold oven. Heat oven to 425F. Once the oven reaches 425 degrees, bake for 30 minutes.
Remove lid and bake, uncovered, 20-30 minutes longer, till bread is deep brown and the center of the loaf registers 210F on an instant-read thermometer. Carefully remove bread from the pot and place it on a wire rack to cool. Let cool 2 hours before slicing.
Note: This bread is best eaten the day it's made, but will keep wrapped in a double layer of plastic and stored at room temperature for up to 2 days. To re-crisp crust, place unwrapped bread in a 450-degree oven for 6 to 8 minutes. Freezes well for up to 3 months.
Recipe by
Farm Girl Cook'n
at https://farmgirlcookn.com/americas-test-kitchen-rustic-almost-no-knead-bread/