Blue Ribbon Bread and Butter Pickles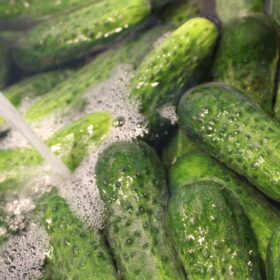 6 pounds pickling cucumbers
1 pound onions (1½ cups sliced)
2 large, peeled garlic cloves
⅓ cup pickling (canning) salt
2 trays of ice cubes
4 to 4½ cups sugar (I only use 4 cups)
1½ tsp turmeric
1½ tsp celery seed
2 TBS mustard seed
3 cups cider vinegar
Wash and slice cucumbers, peel and slice onions -- combine in a large non-metal bowl
Add garlic cloves, canning salt and mix
Cover with ice cubes and let stand 2 to 3 hours
Remove garlic, rinse well and drain
In a large pot combine sugar, turmeric, celery seed, mustard seed, and vinegar
Stir and add drained cucumbers and onions
Heat for 5 minutes
To can, pack hot pickles in hot sterilized jars, leaving ½ inch headspace. Adjust jar lids. Process in a boiling-water bath for 10 minutes for pints or quarts.
Alternate Instructions for refrigerator pickles
In a large saucepan mix the sugar, vinegar, turmeric, celery seed and mustard seed. Bring pickling liquid to a boil, making sure the sugar and salt have dissolved.
Layer sliced cucumbers and onions in an alternating pattern in your canning jar til the top. Ladle in the pickling liquid til the cucumbers and onions are covered. Wipe the rim of your jar, place the lid on top, and secure with metal screw band. Pickles will be ready to eat after a week. Store pickles in a refrigerator up to 1 year.
Recipe by
Farm Girl Cook'n
at https://farmgirlcookn.com/state-fair-blue-ribbon-bread-and-butter-pickles/